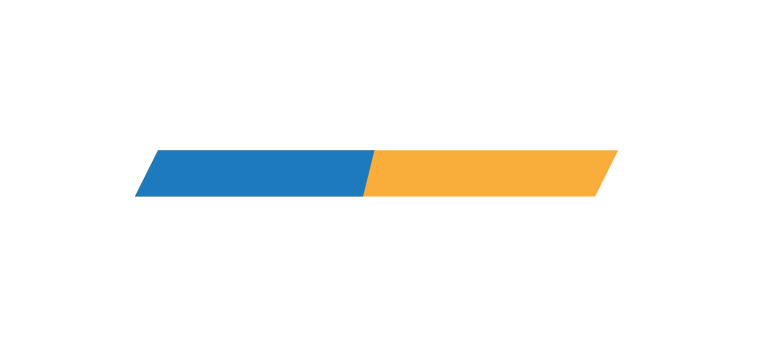 Is BNPL the Silver Bullet to energize the Consumer Finance Landscape
BNPL is a form of Financing at the point of sale that is gaining significant currency across markets – both mature and emerging. In terms of market share of lending – they may be small today, however, they are growing at a rapid pace compared to traditional loan and card options. BNPL brings new business avenues for merchants and is a cost-effective alternative for the customer as compared to high-interest credit card charges.
BNPL solutions are usually highly integrated into the shopping checkout, with just a few clicks, unlike consumer-lending solutions that require paperwork to be applied for. Additionally, BNPL solutions often provide the consumer options that can be opted into or changed with very low friction during the repayment period. The convenience it offers being embedded in the purchase journey rather than just at the Point of Sales, make BNPL an interesting option for consumers.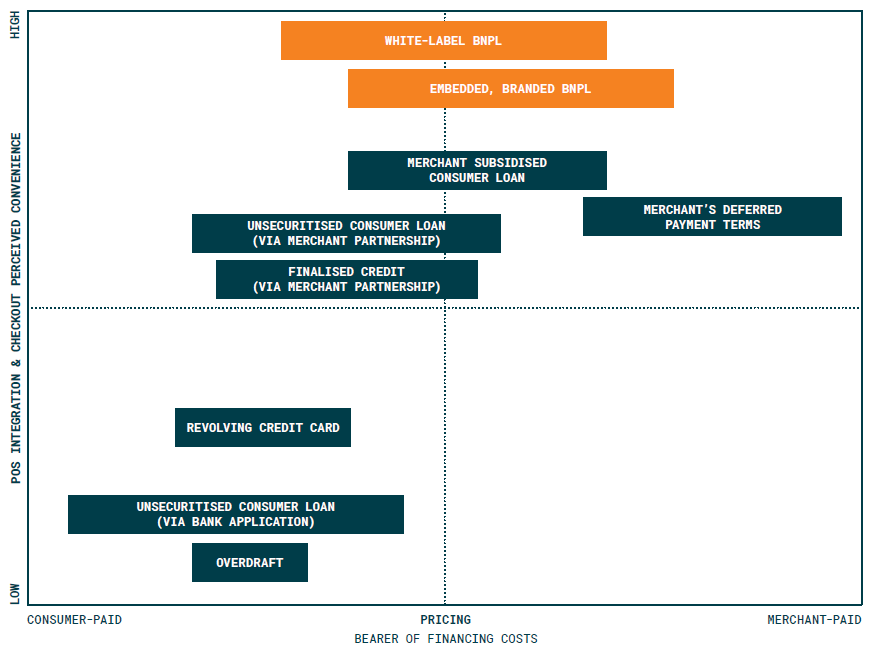 Source: ARKWRIGHT_BNPL_2022
Leading brands like Klarna or Afterpay have blended personalized recommendations for products often mapped to Consumer interest, and preferred channels with product access across mobile, web, app, and PoS systems. The ability to help customers via continuous engagement till the last mile in the purchase journey gives BNPL players the edge vis-à-vis other models now.
Across markets from the United States, UK, and Australia to more conservative markets like Indonesia or the Middle East, there has been an upsurge in the number of companies offering BNPL solutions. In UAE and GCC region, there are close to 10 players including Tabby, Tamara, Postpay, Spotii and Shahry.
Despite strong growth and bright prospects, there are enough headwinds faced by the industry. There is a growing perception that BNPL drives impulse consumption, which may result in purchase amounts higher than the user's ability to repay. The recent Australia experience was one of the rapid expansions in the last three years with Regulators in 2022 worried that BNPL players have escaped regulation and consumers have got into excess debt without enough repaying capacity.
BNPL providers use different and non-standardized assessment methods which still must prove themselves in stress tests and adverse economic environments and are not linked with credit bureaus enabling checking of the level of indebtedness or affordability. In addition, BNPL providers are benefiting from loopholes, avoiding the requirements that banks must meet (KYC, credit check, lending reporting, standardized legal information, etc.). These exemptions in terms of credit duration and/or volume, interest-free credits, and a limited number of instalments were intended to facilitate serving the low-end segment of the market efficiently. Legislators in the US, Australia, Europe, Singapore, the UK and other countries, as well as consumer associations, are starting to pay attention and close regulatory market gaps.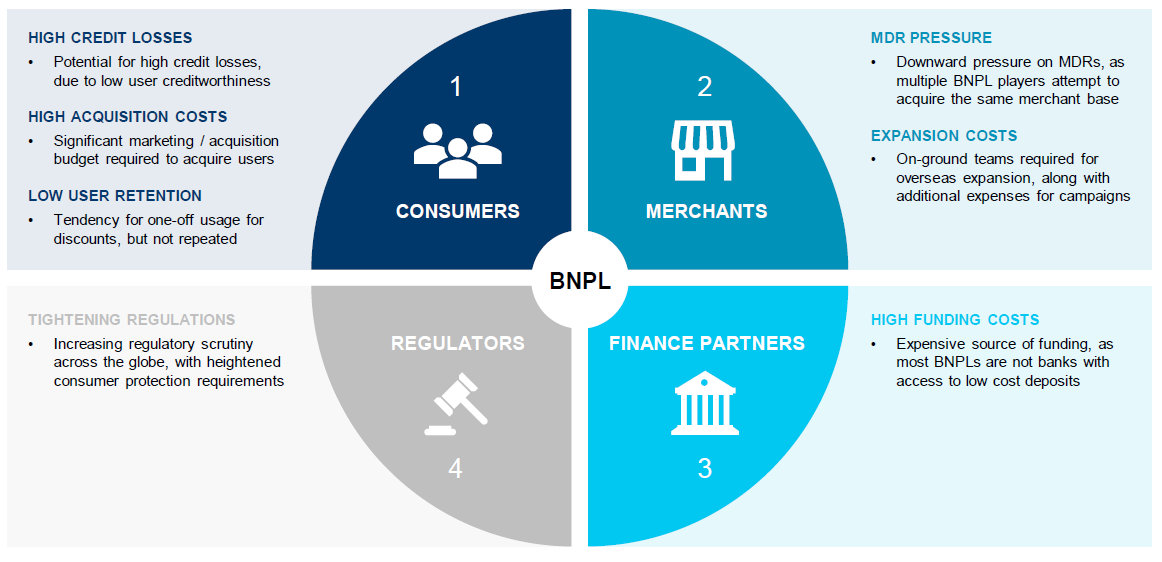 Source: Buy Now Pay Later | Strategy Consulting | Quinlan & Associates
BNPL business model involves two other intrinsic risks. The first is heavy promotional costs to acquire users and the second is a potential conflict of interest via the platform ecosystem model with merchants. The economics of BNPL is often skewed with sizeable losses during early years where considerable sums are spent on customer acquisition. BNPL additionally faces the risk of adverse selection of customers with generally weaker credit profiles and/or higher credit risks. The second most significant risk is the growing conflict of interest with Merchants. BNPL model is built on bonhomie with Merchants and Merchant discounts which form a key resource of revenue. In pursuit of platform ecosystems, BNPL players become the bigger brands often sidelining merchants in the process. Being Investor expectations driven by higher discounts from merchants, the economic balance between BNPL players and merchants is often at risk.
We recommend readers to take the time to read two interesting pieces for more information on this subject. One is  a report by McKinsey outlining Five competitive BNPL models – the link is provided here Buy now, pay later: Five business models to compete | McKinsey. The second report is from Quinlan Associates who have done an analysis of the Asia Pacific BNPL space, including perspectives on how players can improve their game for growth and profitability. The report can be found here Buy Now Pay Later | Strategy Consulting | Quinlan & Associates (quinlanandassociates.com)
Title Image Attribute: Mobile money vector created by pch.vector – www.freepik.com