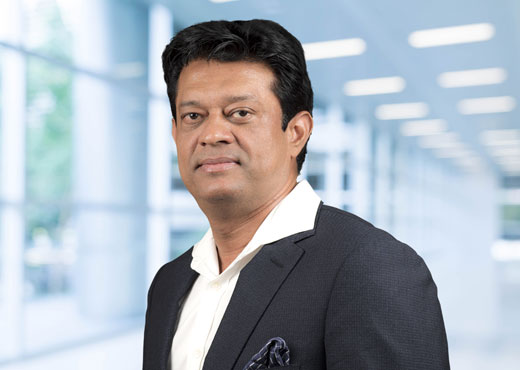 Jayafar Moidu
Founder & CEO
Jayafar Moidu, Founder & CEO of JMR Infotech, a leading Technology Solutions, and Services provider, is a visionary of a rare breed who embodies the principle 'Nothing is impossible'.
Under Jayafar's prudent guidance, JMR Infotech has earned worldwide recognition for providing cutting edge technology services to its clients. Jayafar has spent close to three decades in the IT industry. Jayafar's distinguished corporate experience, combined with his successful entrepreneurial stint has enabled him to evolve into an industry thought leader who can pioneer new ideas.
In 2007, when Jayafar Moidu founded JMR Infotech, one of the key objectives was to propagate his vision to provide unmatched quality of IT services to clients through innovation and thought leadership. In its short existence, the company has grown from strength to strength through his visionary ideas, innovation, and perseverance. JMR Infotech's clientele includes top organizations and financial institutions across 5 continents and this achievement is a testimony of Jayafar's deep understanding of technology.
Before starting JMR Infotech, Jayafar has had a highly successful corporate career. He has held responsible positions in top Financial Institutions like HSBC and Al Rajhi Bank. He is an alumnus of Regional Engineering College (presently known as the National Institute of Technology), Calicut.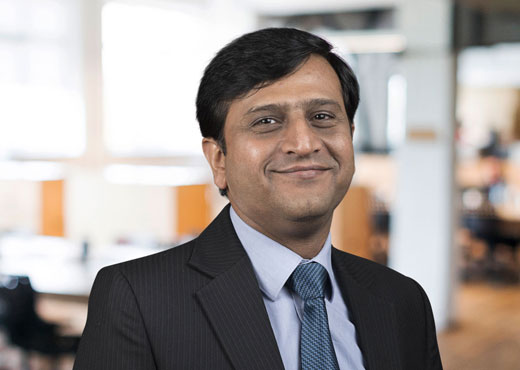 Vijay Raina
Group Chief Operating Officer
After joining JMR Infotech in 2010 as Project Manager, Vijay managed the relationships with key clients in India and North Africa.
Having worked in the Banking and IT industries for the last 2 decades, he brings with him a rich experience in Retail Banking Operations, Core Banking Product Development, Product Implementation and Partner Enablement.
Prior to joining JMR Infotech, he worked with Oracle Financial Services Software Ltd., where he had executed Implementation, Development, Migration and Partner Enablement projects in mature markets like Japan and Western Europe.
Early in his career Vijay was associated with the ICICI Bank – India's largest private sector bank and headed one of its branches in Mumbai.
Vijay holds a Master's Degree in Finance and Control from Lucknow University.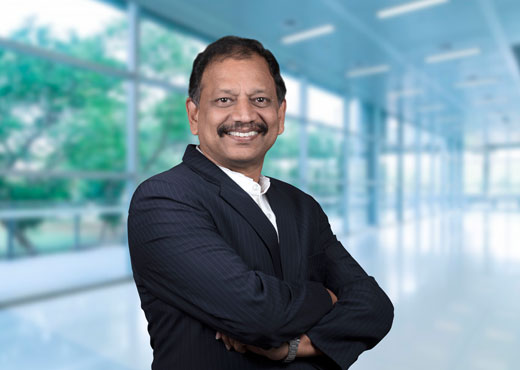 Srinivasan Arunachalam
President – Sales & Operations
Srinivasan Arunachalam (Srini) is a senior business leader with over 30 years of experience in the IT Services industry. A substantial part of Srini's career has been spent in the technology industry across sales, pre-sales and implementation functions.
Srini started his career with an Accounting role at an international accounting firm in Oman, followed by another stint at Hindustan Motors. In 1992, he joined CITIL, where successfully handled 80+ implementations and 120+ customers, 6 support centers across Africa & the Caribbean. From the year 2000, he had managed business development in Africa, the Caribbean and Latin America.
With Oracle's acquisition of i-flex (erstwhile CITIL) in 2005, Srini got associated with Oracle Financial Services (OFS), where he took up the crucial Global Sales Operations role in addition to Global Pre-Sales & Solutioning.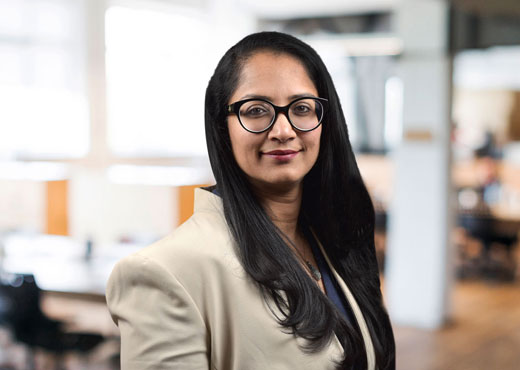 Rajitha Jaffar
Chief People Officer
Rajitha has over 22 years of rich and varied experience, largely in Information Technology Management and Human Resources Management.
She has deftly dealt with different facets of IT and HR Operations. She has been in the IT & BFSI industry for over two decades and has held responsible positions in multinational companies like HSBC, Executrain, Informatics and New Horizons.
She is an exceptional communicator, focused on building strong client and employee relationships.
She is an alumnus of Regional Engineering College (presently known as National Institute of Technology) Calicut.
Venkata Subramanian (Vex)
President – Financial Services & Solutions
Venkata Subramanian (Vex) is a versatile business leader with more than 33 years of experience in the Banking & IT industry.
In his role as President – Banking & Financial Services, Vex sets the strategic direction for JMR's Banking and Financial Services business.
Vex started his career with the State Bank in 1983 and served in various capacities before embarking on a career in the IT industry. He spent more than 2 decades with COSL – CITIL – iflex – OFSS, where he handled many large scale FLEXCUBE implementations and managed marquee customers.
He was instrumental in increasing the FLEXCUBE customer base and has worked with some of the most prominent names in the Banking industry, across geographies. He has won the Service Excellence Award for 2 consecutive years and a Team award for his various roles at Oracle.
Vex holds a Master's Degree in Commerce and is a Fellow Associate of Indian Institute of Bankers.
Srinivasan Mahadeva
SVP & Head – JMR Digital Platforms
Srinivasan heads the JMR Digital Platforms business vertical at JMR Infotech. He is a senior business leader with an excellent grasp of leveraging technology for successful business outcomes. Srinivasan has a proven track record of 24 years, where he has honed necessary skills in turning around projects and businesses with his functional knowledge, technology acumen and leadership skills abilities.
Srinivasan's expertise in Product Conceptualization and Development, Innovation, Organization Operational Excellence, Technology Practice and Competency Creation adds tremendous value to JMR's Digital Platforms business.
Prior to joining JMR, he was the Senior Vice President & CTO at SBICAPSEC leading the Digitization & modernization of systems. In the past, he was associated with organizations like SBI, Oracle, TCS, with over 24 years of experience in Banking & Financial Services industry, managing various Core Banking & Broking product implementations, IT Transformation projects, Product Management and Global Solution sales.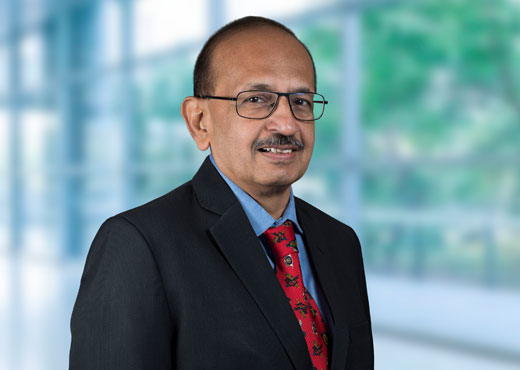 Suresha Ramachandra Iyer
EVP & Head – Enterprise Risk & Analytics
Suresha holds a Master's Degree in Statistics from Bangalore University and holds the First Rank. He is the first Indian to get certified in AML by ACAMS of USA. He is also invited to speak at several international forums on Compliance regularly. Suresha has won several awards and accolades in his illustrious corporate career.
Suresha is an accomplished professional with 40+ years of experience spread across Banking, Mutual Funds and IT Services industry.
Suresha started his career with hands-on retail banking roles at Canara Bank. After a fifteen-year stint, he moved to Canbank Mutual Fund. He handled all aspects of the Mutual Funds business for nearly ten years before joining i-flex Solutions in Feb 2000 (presently Oracle Financial Services). During his stint at Oracle, he handled the landmark Datawarehouse project for the Reserve Bank of India and four complex Central Bank projects.
He was involved in delivering Strategic Consulting and Advisory services to Citi, Lloyds, Barclays and was actively involved in the completion of over twenty Risk & Compliance projects across the globe. A substantial part of Suresha's career has been with the Technology industry across Datawarehouse, Risk & Compliance functions, Strategic Consulting Services and Program Management.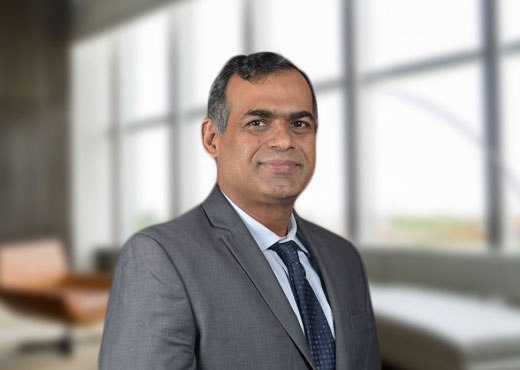 Varghese Thomas
SVP & Head – Digital & Enterprise Solutions
Varghese is a senior business leader who has worked with various organizations like Exeter Systems (now SunGard) and Philip Morris. His previous assignment was at Nous Infosystems, where he worked for over 21 years in a leadership role.
He comes with a rich experience of working in the BFSI, Healthcare and Retail sectors where he has been responsible for Customer Management, delivering over 40+ Enterprise Applications, building Technical Solutions teams, setting up Process Certifications and Offshore Delivery Centers for many Financial Service institutions across North America and Europe.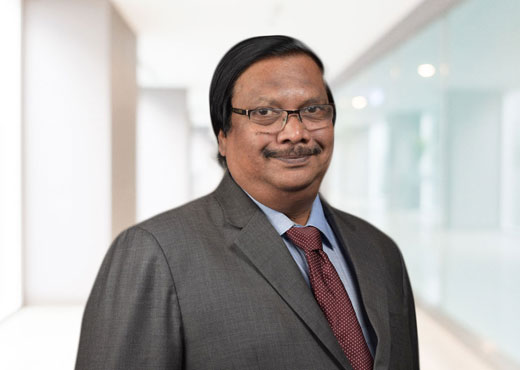 K Venkateswara Rao
SVP – Financial Services & Solutions
K Venkateswara Rao (KVR) is a dynamic and accomplished IT professional, with 30+ years of experience in the IT industry.
KVR has varied professional experience in Leadership roles across Telecom, Banking and IT industries. He possesses excellent knowledge of Banking Financial Regulations and Compliances and has a proven ability to assess customer business needs and design and configure appropriate solution document "as is" and "to be" processes. He has expertise in managing banking operations with a key focus on optimal utilization of resources and implementing the Core Banking Package software in the bank. He also has hands-on experience in Information System Audit in banking environment.
Some of his key achievements are as follows:
Directed FCR + FCC + Internet Banking implementation and support for Syndicate Bank, one of the largest public sector banks in India with implementation covering 3,200 branches

Implemented FLEXCUBE (Retail & Corporate) in Punjab State Co-operative Bank & 19 District Co-operative Banks under ASP model

Implemented FLEXCUBE Core Banking (FCUBS) in the largest Commercial Bank in Lao – Banque Pour Le Commerce Exteriur Lao Public (BCEL Bank), Central Bank of Libya and 4 Commercial Banks

Managed implementation of FLEXCUBE (FCUBS) in NedBank, South Africa and 5 countries of Rest of Africa

Headed Data Center since inception for the Syndicate Bank, setting up and successfully running the Bank's Data Center for 4 years

Implemented Total Branch Automation (TBA) of different software viz. ECIL, ISBS (TCS) and Infrasoft for the Syndicate Bank
KVR is a Post Graduate in Mathematics, with Banking certification (Certified Associateship of the Indian Institute of Bankers – Banking). He is also an Oracle Certified Professional (OCP) DBA A Certified Internal Information Security Auditor (CIISA) and Certified Information Systems Auditor (CISA).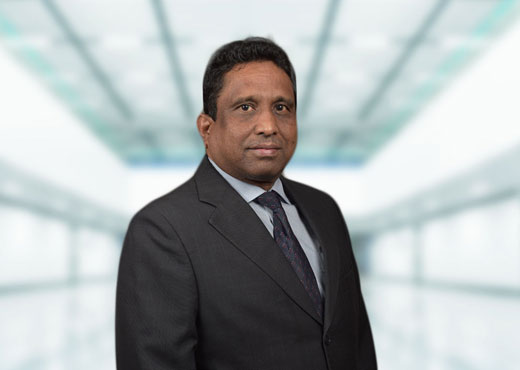 K.B. Seshadri
SVP – Financial Services & Solutions
K.B. Seshadri has over 35 years of experience in the Banking and Financial Services domain, of which over 20 years have been with Oracle Financial Services Software Ltd. He has held senior management positions in various roles around the flagship Core Banking Solution – FLEXCUBE.
From Leading Implementations, Key Account Relationships, Sales Enablement; to heading the Banking Domain Process Consulting, Seshadri has a wealth of experience. His Banking Domain expertise encompasses all major areas of Banking from Retail & Core Banking, Corporate Banking, Lending, and Trade Finance; to Treasury & Investment Banking.
He also has over 14 years of experience as banker, holding senior positions in Industrial Development Bank of India (IDBI), the apex Industrial Finance Institution and with ECGC Ltd. He is a postgraduate in Management from Jamnalal Bajaj Institute of Management Studies, Mumbai.
Sandhya K Gurjar
VP – Financial Services & Solutions
A passionate Techno Banker with more than 25 years in product management and banking services consulting, Sandhya has rich solutions development experience in both retail and corporate banking.
She has successfully managed projects on the study of Regulatory Compliance across geographies and designed solutions for Trade Finance under Uniform Customs and Practice and Credit Supervision for ease of adoption of Basel recommendations. At Canara Bank, she was an integral part of the bank's core banking team, and also managing solutions for branch banking, government accounts, pension payments, and accounting with Reserve Bank of India.
As senior product management expert for Oracle Banking Platform, she has designed significant capabilities like dashboards for business data configuration, credit management, and supervision, key capability enhancements and interfaces for collateral management. She was the design lead of the componentization strategy for Product Configuration and Credit and Collateral Management products of the Oracle Banking Platform. She has also been a solutions practice lead, where she was responsible for managing customer requirements, product training, and adoption.
Sandhya is a Commerce Graduate with certifications in Structured Systems Analysis and Design from the National Institute of Information Technology (NIIT), certified Scrum Master from Scrum Alliance.
Narayanan Ramaswamy
VP – Enterprise Risk & Analytics
Narayanan is a Chartered Accountant with over 24 years of work experience. Prior to joining JMR Narayan was working as a Consulting Director with Oracle Financial Services Software Ltd; handling OFSAA practice for South Asia.
Narayan possesses diverse experience in IT industry, having worked in Product Development, Support, Pre-sales, Sales Support, Implementation, Project Management and Customer Engagement, besides possessing Business Consulting experience, having worked for one of the Big Four accounting firms in the early stages of his career.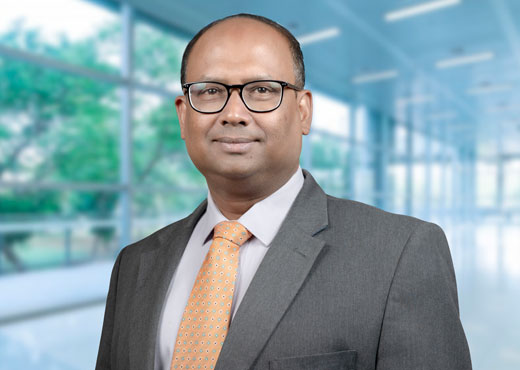 Debashis Das
VP – IT Infrastructure Services
Debashis heads the IT Infrastructure Services business at JMR. He has a rich experience, spanning over 22 years, in P&L Ownership and Management of large units, Business & IT Strategy, Pre-sales, Solutions & Architecture. He has successfully led Digital Transformations and Transitions, Outsourcing Advisory & Consultancy to customer stakeholders and managed Global Service Delivery with 24X7 operations, across the globe.
Prior to joining JMR Infotech, he was associated with Tata Consultancy Services and DLF Power Ltd. Debashis has successfully managed large delivery for one of the Big Four consulting firms, right from sales to delivery, across the infrastructure landscape. He has also managed similar delivery for User Experience Support for a top global O&G company. He was instrumental in leading, managing and growing the Energy & Resources unit of IT IS Services in TCS.
Debashis is an Electronics & Telecommunications Engineer and an alumnus of National Institute of Technology (formerly, Regional Engineering College), Silchar.
Ganesh Ramani
Regional Head – Africa (West, Central, East and Southern Africa)
Ganesh is a prolific business leader with extensive experience across Sales, Operations, Business Transition & Transformation, Large Account Management, Stakeholder/Contracts/P&L management in multiple geographies across Government/Public sector and Private enterprises. He has also worked in emerging markets, developed business and revenue growth, worked in cross-cultural and complex regulatory environments, acquiring BFSI clients through partnerships with global platform partners. He will be based in Nigeria.
Ganesh holds a Masters in Management Studies (MMS) from Mumbai University with specialization in Sales & Marketing. Prior to joining JMR, he was associated with companies like IRIS Business Services, iSON Experience Ltd and Sutherland Global Services Ltd.
Amitava Sanyal
Regional Head – Francophone & North Africa
Amitava heads Sales for Francophone Africa and North Africa markets working closely with in-country sales and partners globally at JMR. Previously, he was responsible for developing the channel strategy for JMR products and services and managing business through the channel partners.
Prior to joining JMR, Amitava was associated with companies such as Infosys, HCL, L&T and brings 15+ years of experience in Strategic Alliance Management and Partner Program development, Solution selling, Pre-sales and Project delivery. In these years, he has worked with customers and partners across key geographies of MEA, India, SEA, UK, Benelux and US. He has built, managed and mentored many high performance teams.
Strong partner ecosystems being one of the key drivers for growth, he was instrumental in many effective & strategic tie ups with large OEMs and niche product partners and running go to market initiatives with them globally.
Amitava is a Management graduate from Nanyang Business School, NTU, Singapore with specialization in Strategy Management. He holds an engineering degree from National Institute of Technology, Allahabad (India).
Ashwin Yogesh Lal
Regional Head – Middle East
Ashwin brings 17+ years of experience, which includes new business development, account management, and key leadership roles with P&L responsibilities.
Prior to joining JMR, Ashwin was associated with companies like Tech Mahindra, Polaris, Infosys, and i-flex. He has worked across geographies and managed client relationships in APAC, South Asia, Middle East, and Europe. He has been a part of and mentored many high performance teams. Strong partner ecosystems being one of the key drivers for growth, he was instrumental in forging several effective & strategic tie ups with large and niche product partners and evolving go to market strategies.
Ashwin is a Management graduate from IIM, Lucknow with specialization in Marketing & Operations. He holds an engineering degree from National Institute of Technology, Trichy.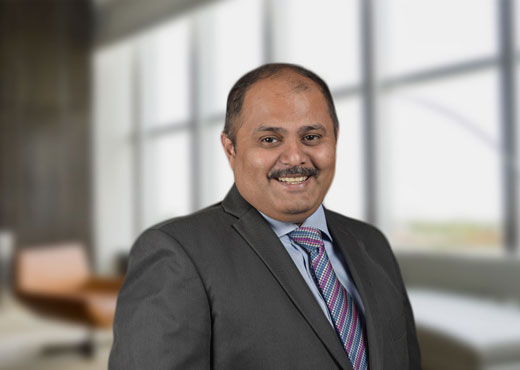 Karthik Balasubramaniyam
Regional Head – APAC
Karthik is an exceptional senior resource who comes with over two decades of experience and competencies around consulting led conversations with Financial Institutions.
At JMR, he heads the sales for the APAC region and is instrumental in planning strategic sales initiatives in the region. Karthik also holds the responsibility for global sales of the JMR Digital Platforms. 
He formerly worked with TCS, where he had led Sales & Consulting pursuits in Banking & Capital Markets; across Products & System Integration for over fifteen years. Prior to TCS, he served at KPMG Consulting in their India and Overseas projects for over 7 years. His last few years were spent in Digital Core Solution for Neo-Banks, and supporting market positioning for new initiatives.
He holds an MBA degree and is an avid researcher across Fintech and Innovation topics.
Ganapathi Sabhahit
Senior Director – Enterprise Apps
Ganapathi is a senior technology expert with over 15 years of experience in Oracle EBS Cloud Financials, CRM, Manufacturing with Supply Chain/Procurement Areas of Enterprise Applications. Ganapathi brings in rich Technical Project Manager experience along with multifaceted perspectives, coupled with deep exposure to multiple industries such as Semiconductor Manufacturing, Financial Services, Supply-chain Logistics, Building materials and Mortgage.
Prior to joining JMR Infotech, he was associated with companies like Quinnox Consulting, HCL, First American Corporation and Infosys Technologies.
He has also strategically planned the execution of coveted assignments during associations with Fortune 500 companies like Boral Shared Services Sydney, Agilent Technologies Palo Alto CA/Singapore, Solectron Corp. Memphis TN, AT&T Corp. Piscataway NJ, Xerox Corporation Rochester NY during his professional tenure.
Ganapathi is an Engineering graduate and an alumnus of the Karnataka University, Dharwad.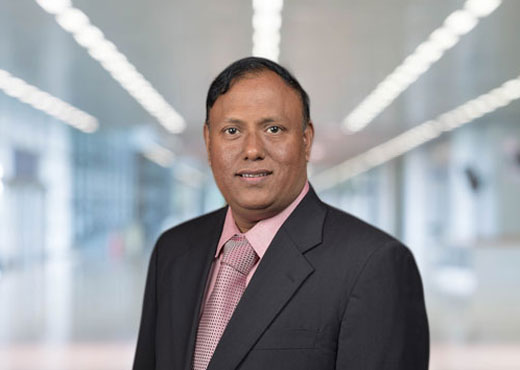 Shridhar Bhagwat
Chief Manager – HR
Shridhar brings with him 18+ years of experience with competencies around HR Operations, People, processes and productivity, PMS and Employee Engagement. He comes with good exposure in diagnostic tools and change management with different organizations. Prior to joining JMR, Shridhar has rich experience working in different industries like IT, Retail, Consulting, Manufacturing and Telecom sectors with companies like Skilldom Learning solutions, Continuum, Next Education, Future Group, Taj Group and Airtel.
Shridhar is a commerce graduate with a master's degree in HRD from Narsee Monjee Institute of Management Studies, Mumbai. He has worked in multiple domains such as HR, OD, L&D and Operations.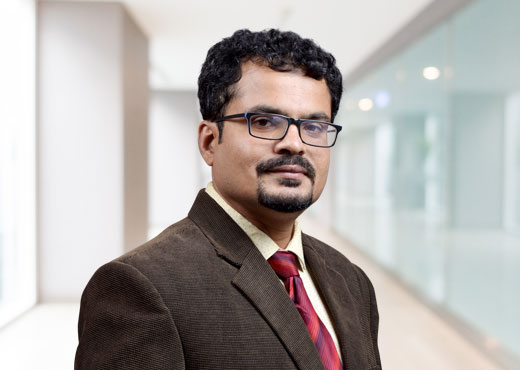 Santosh Shet
Chief Manager – Finance
Santosh carries 17+ years of experience in providing comprehensive commercial finance and accounting support services to businesses across South East Asia, Africa, the Middle East, and North America. He comes with good exposure in Financials Analysis, financial reporting, governances and compliance system, process improvement and ERP implementations. Before joining JMR, Santosh has diversified professional experience in the manufacturing, IT service, retail business and consulting with companies like the Vectra Group and Infosys.
Santosh is a Commerce graduate with a Master's degree in Finance and Accounts from Karnataka University Dharwad. He is currently pursuing CFA from ICFAI University. He has worked in multiple domains like Corporate Accounting, Business Finance, Consulting, Operation, and ERP implementation
Anand Bangalore Ekambaram
Head – Talent Acquisition
Anand is a seasoned Talent & Acquisition professional with over 14 years of experience. Before joining JMR Anand was associated with companies like Manpower, Kelly, Microland & LeEco.
He has set up and driven HR & Recruitment operations right from scratch, monitoring team performance and ensuring achievement of the department targets.  In his previous role, he was designated as Head Talent Acquisition for LeEco in India.
Anand holds a Masters Degree from Pondicherry University in Human Resource Management.