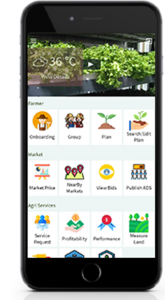 How does AgriNET Work?
JMR's AgriNET is a smart agritech platform that integrates all the factors and stakeholders of the agricultural value chain, through transformative digital technology. AgriNET ensures the seamless exchange of relevant information between all the stakeholders including government bodies, financial institutions, agriculture research organizations, meteorological departments, seed producers, agri-input companies, agro-buyers, ensuring that the farmers who are at the center of the ecosystem are benefited.
Unique Features of AgriNET
AgriNET eVoucher
JMR AgriNET eVoucher is an effective tool which enables Government organizations, NGOs, and World Bodies to efficiently distribute and track the usage of subsidies to farmers. It ensures that farmers get timely access agricultural inputs.
The eVoucher module digitally enables farmers to make purchases for their individual, business or agricultural needs through electronic media like Smart cards and NFC, mWallet.
JMR AgriNET eVoucher module uses mobility devices like Mobile Phone, Tablet and Mobile POS to disburse and track the movement of the credited subsidies in the system.
Creating a Connected Ecosystem through the eVoucher
Captures demographic details of farmers to assign and activate e-Voucher along with beneficiary registration report
Enables access to quality agricultural inputs like seeds, fertilizers, farm equipment, etc. at optimum prices
Provides an online platform with ready buyers to agro-dealers and Manufacturers
Eases implementation of social schemes like subsidies and traceability across value chain
Ensures transparency & traceability of disbursed amount for the funding organizations
Presents the farmers with a cashless value system which ensures efficient and optimum use of the subsidy for the intended purposes
Registers selected retail outlets and creates POS for a seamless transaction with the beneficiaries
Allows beneficiaries to withdraw e-money from the funding organizations and pay to other beneficiaries or retailers
Serves as a medium for instant communication between the governing body, farmers, agro-dealers and agro-buyers